Craig Buthod, Direktor der "Louisville Free Public Library" wurde zum Bibliothekar des Jahres 2010 ausgerufen/gewählt…bestimmt …
An ability to convert setbacks into opportunities is the key to the successful career of Craig Buthod, director of the Louisville Free Public Library (LFPL), KY. Buthod possesses a unique combination of optimism, managerial talent, political savvy, and a willingness to do battle, even after serious losses. This uncanny mix is why he was singled out from strong competitors to be LJ's 2010 Librarian of the Year.
Im LibraryJournal gibt es einen Artikel über ihn … jaja - die Armerikaner… wann wählen wir denn in Deutschland den/die Bibliothekar/in des Jahres?!

Ich hätte da ein/zwei Vorschläge
Ich habe eine Sammlung alter Fotos aus amerikanischen Bibliotheken gefunden. Wie nachfolgend beschrieben, kommentieren Mitglieder der Community die Fotos und erzählen von früher:
Shorpy is a great source for old photographs. They often get them from sources like the Library of Congress which is where this photo of the New Cannan public library in 1953 came from. You can also see the original set of photos over at the Library of Congress (… ) It's not just a photo of a library, it's also people commenting about their memories of the library including where else they've seen that certain floor tile (…)
Hier ist die SUCHE nach "Library"
Hier ist die Community SHORPY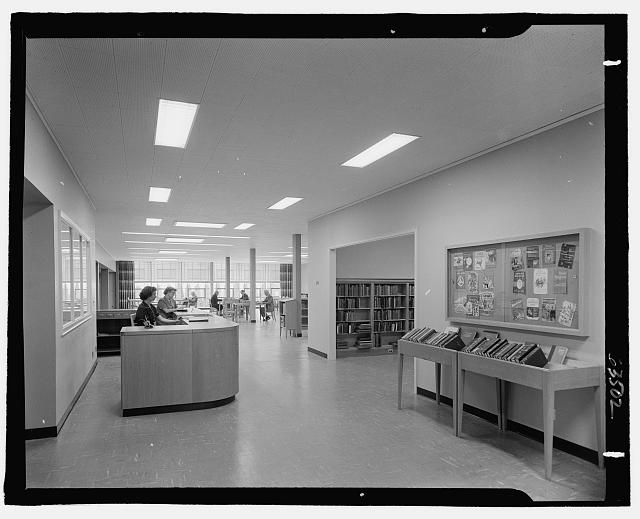 via [librarian.net]
Im Library Journal ist ein Artikel zum Thema "2009 Placements & Salaries Survey" erschienen - inklusive Statistiken.
Kurze Infos:
The average starting salary for a librarian went down in 2008 for the first time in over a decade, from $42,361 to $41,579.
There are fewer full-time jobs, more part-time jobs, and more non-librarian jobs.
New graduates are having a harder time finding jobs and remain unemployed longer.
Disturbing to me, being a public librarian, was that full-time librarian placements in public libraries fell bby an astounding 12.5% in 2008.
[via librarianinblack]
Ken Davis ist der Autor einer in Amerika bekannten Bücherserie namens "Don't Know Much About".
Er hat ein interessanten Artikel über die Notwendigkeit von Bibliotheken geschrieben - und plädiert dafür, daß die "Türen geöffnet werden - weiter, als je zuvor!"
Ken Davis nimmt als Aufhänger die Tatsache, daß drei Bibliotheken in New York 22% ihres Etats einbüßen müssen (der Artikel ist erschienen im libraryjournal.com).
Darin heißt es:
New York City´s three Library Systems face 22% Budget Cut.
943 emloyees would be laid off, many branches would offer no weekend service, city Council must approve budget by June 30.
Betroffen sind die Queens Library, Brooklyn sowie die New York Public Library.
Daher schreibt er:
They are not a luxury, but a lifeline
Underlying this reality are two simple facts. First, libraries do not have a vocal, powerful constituency. Unlike the police, teachers and fireman, they don't have a potent union or benevolent association. There is no "Library Lobby" doling out campaign contributions. But far worse, libraries tend to be viewed by all too many people in power as a luxury.

In many of these minds, the public library is stuck with an antiquated image of stern ladies shushing noisy kids, retirees borrowing the latest bestsellers and –more recently—homeless folk camping out in a heated corner. They are all clichés. And dumb ones at that.

(…)
The public library is not just about borrowed books. It is about information –the great currency of our time. And the library has, by default, become the bridge in the digital divide because it offers free access to computers.  Can you imagine in this digital day looking for a job, submitting a résumé or a college application, or searching for housing without your computer? For millions of people, the library is their laptop.

(…)

Cut or kill the libraries and you yank away a shovel.

So please, Mayor IT Guy. And Mayors anywhere else, for that matter. Leave the libraries alone. Believe me. They are not a luxury, but a lifeline.
Hier gehts zum ARTIKEL